Are You a Martha or a Mary?
September 30, 2018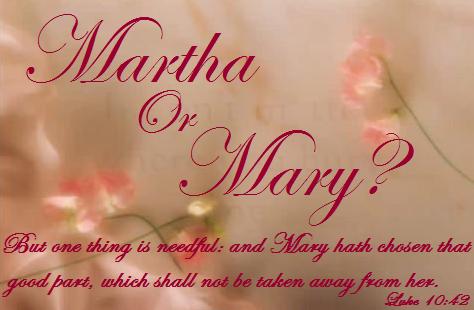 Luke 10:38-42
Now it came to pass, as they went, that He entered into a certain village: and a certain woman named Martha received Him into her house. And she had a sister called Mary, which also sat at Jesus' feet, and heard His word. But Martha was cumbered about much serving, and came to Him, and said, Lord, dost thou not care that my sister hath left me to serve alone? bid her therefore that she help me. And Jesus answered and said unto her, Martha, Martha, thou art careful and troubled about many things: But one thing is needful: and Mary hath chosen that good part, which shall not be taken away from her.
Philippians 4:6
Be careful for nothing; but in every thing by prayer and supplication with thanksgiving let your requests be made known unto God.
1 Peter 5:6-7
Humble yourselves therefore under the mighty hand of God, that He may exhalt you in due time: Casting all your care upon Him; for He careth for you.
God Bless You
:o)
_________________________________________________________