Grades 3-6 Lesson for Sunday School:
The Apostle Paul: Part 3
The First Missionaries
Coloring Page for Young Visitors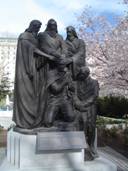 Memory Verse:
"Preach the word; be instant in season, out of season;" 2 Timothy 4:2a
Key verses for this week:
"Now they which were scattered abroad upon the persecution that arose about Stephen travelled as far as Phenice, and Cyprus, and Antioch, preaching the word to none but unto the Jews only. And some of them were men of Cyprus and Cyrene, which, when they were come to Antioch, spake unto the Grecians, preaching the LORD Jesus." Acts 11:19-20
"Then departed Barnabas to Tarsus, for to seek Saul:" Acts 11:25
"As they ministered to the Lord, and fasted, the Holy Ghost said, Separate me Barnabas and Saul for the work whereunto I have called them." Acts 13:2
"Now when Paul and his company loosed from Paphos, they came to Perga in Pamphylia: and John departing from them returned to Jerusalem." Acts 13:13

Fill in the Blanks
The word of God spread because of the stoning of .
was chosen to go and minister to the new Christians in Antioch.
Barnabas went to Tarsus to find .
Saul and Barnabas were chosen to deliver a relief gift to Christians suffering from _________.
The told the church to send Barnabas and Saul as missionaries.
True or False
1. A young man named John went with Saul and Barnabas to Cyprus.
2. In Paphos, Saul and Barnabas met with opposition from a silver smith.
3. The deputy was turned away from the Lord by the sorcerer.
4. God blinded the sorcerer who tried to stop the deputy from believing.
5. John went back home to Jerusalem when they landed in Pamphylia.