Grades 3-6 Sunday School Lesson
New Testament Women of Faith
Eunice and Lois
Coloring Page for Young Visitors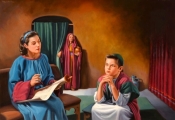 Memory Verse:
"Let no man despise thy youth; but be thou an example of the believers, in word, in conversation, in charity, in spirit, in faith, in purity."
1 Timothy 4:12

Key verses for this week:
"Then came [Paul] to Derbe and Lystra: and, behold, a certain disciple was there, named Timotheus, the son of a certain woman, which was a Jewess, and believed; but his father was a Greek: Which was well reported of by the brethren that were at Lystra and Iconium." Acts 16:1-2
"I thank God, whom I serve from my forefathers with pure conscience, that without ceasing I have remembrance of thee in my prayers night and day; Greatly desiring to see thee, being mindful of thy tears, that I may be filled with joy; When I call to remembrance the unfeigned faith that is in thee, which dwelt first in thy grandmother Lois, and thy mother Eunice; and I am persuaded that in thee also." 2 Timothy 1:3-5

Fill in the Blanks
The apostle took a young man named Timothy along on his missionary journey.
had a great reputation in the town where he grew up.
Paul asked Timothy to stay in the city of when he moved on.
Timothy's mother, , was known to be a believer in Jesus.
Timothy's , Lois, also taught him about Jesus.
True or False
1. Timothy was known in his hometown as a wild young man.
2. Timothy followed Paul throughout his missionary journey.
3. Paul described Timothy's faith as "unfeined."
4. Paul also saw the faith of Timothy in Timothy's mother and grandmother.
5. Paul told Timothy to be an example, in faith, to others.