Grades 3-6 Sunday School Lesson
Bible Heroines: Esther Part 4
Esther is the Champion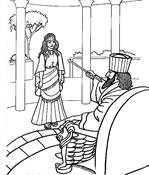 Memory Verse:
"…and who knoweth whether thou art come to the kingdom for such a time as this?" Esther 4:14b

Key verses for this week:
"And Esther said, The adversary and enemy is this wicked Haman. Then Haman was afraid before the king and the queen." Esther 7:6
"So they hanged Haman on the gallows that he had prepared for Mordecai. Then was the king's wrath pacified." Esther 7:10
"For Mordecai the Jew was next unto king Ahasuerus, and great among the Jews, and accepted of the multitude of his brethren, seeking the wealth of his people, and speaking peace to all his seed." Esther 10:3
"For I know the thoughts that I think toward you, saith the LORD, thoughts of peace, and not of evil, to give you an expected end." Jeremiah 29:11
Fill in the Blanks
Queen invited King Ahasuerus and Haman to two banquets.
Haman learned that was the man King Ahasuerus wanted to honor.
King offered Esther up to half of his kingdom.
Esther told the king that was the enemy who was plotting to destroy her.
A new law was written to allow the to defend themselves.
True or False
1. Haman's wife and friends realized that Haman's plan was doomed.
2. Haman was honored to escort Mordecai through the streets of Shushan.
3. Esther revealed to the king that her people were in great danger.
4. The king forgave Haman for his wickedness.
5. God gave the Jews complete victory over their enemies.