Grades 3-6 Sunday School Lesson
Elijah: Where God Guides, He Provides
Lesson 4: God Provides a Stunning Victory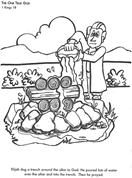 Memory Verse:
"I AM the LORD, and there is none else, there is no God beside me;" Isaiah 45:5a

Key verses for this week:
"And Elijah came unto all the people, and said, How long halt ye between two opinions? if the LORD be God, follow him: but if Baal, then follow him. And the people answered him not a word." 1 Kings 18:21
"The idols of the heathen are silver and gold, the work of men's hands.
They have mouths, but they speak not; eyes have they, but they see not;" Psalm 135:15-16
"And when all the people saw it, they fell on their faces: and they said, The LORD, he is the God; the LORD, he is the God." 1 Kings 18:39

Fill in the Blanks
God sent Elijah to see Ahab again after years without rain.
There were prophets of Baal.
Elijah suggested that couldn't hear because he might be asleep.
The prophets of Baal themselves to try to get Baal's attention.
When Elijah prayed, sent fire to consume the sacrifice.
True or False
1. God's new message for Ahab was that there would be three more years without rain.
2. Elijah challenged all of the prophets of Baal to a showdown on Mount Carmel.
3. There was never any answer from the pagan god, Baal.
4. The fire sent from God consumed everything, even the water in the trench.
5. After the Israelites saw the fire, they still insisted that Baal was their god.