Grades 3-6 Handout for Sunday School Lesson
Easter Lessons
Accepting the Unexpected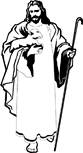 Memory Verse:
"The next day John seeth Jesus coming unto him, and saith, Behold the Lamb of God, which taketh away the sin of the world." John 1:29

Key verses for this week:
"And I will put enmity between thee and the woman, and between thy seed and her seed; it shall bruise thy head, and thou shalt bruise his heel." Genesis 3:15
"He is despised and rejected of men; a man of sorrows, and acquainted with grief: and we hid as it were our faces from him; he was despised, and we esteemed him not." Isaiah 53:3
"Jesus answered and said unto them, Destroy this temple, and in three days I will raise it up. But he spake of the temple of his body." John 2:19, 21
Fill in the Blanks
God promised, all the way back in the Garden of , to send a Messiah.
The Jews were looking for a Messiah to be their earthly .
John called Jesus "the of God, who takes away the sin of the world."
Simeon warned Jesus' mother, , that a sword would pierce her own soul.
When Jesus talked about destroying the , He was talking about His death.
True or False
1. Old Testament prophecy said that the Messiah would come as an angel.
2. When Jesus fed the 5000, some of the Jews recognized Jesus as the Prophet foretold in the Old Testament.
3. The Jews knew that a lamb had to die to cover their sins.
4. Most of the Jews accepted Jesus as their promised Messiah.
5. Jesus' rejection by the Jews was actually part of God's plan.