Grades 3-6 Handout for Sunday School
Easter Sunday: Where's the Sting?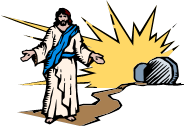 Memory Verse:
"O death, where is thy sting? O grave, where is thy victory? But thanks be to God, which giveth us the victory through our Lord Jesus Christ." 1 Corinthians 5:55,57
Key verses for this week:
"And after that they had mocked him, they took the robe off from him, and put his own raiment on him, and led him away to crucify him." Matthew 27:31
"Blotting out the handwriting of ordinances that was against us, which was contrary to us, and took it out of the way, nailing it to his cross;" Colossians 2:14
"I lay down my life, that I might take it again. No man taketh it from me, but I lay it down of myself. I have power to lay it down, and I have power to take it again." John 10:17b -18
"And the angel answered and said unto the women, Fear not ye: for I know that ye seek Jesus, which was crucified. He is not here: for he is risen, as he said. Come, see the place where the Lord lay." Matthew 28:5-6
Activity:
In gratitude to Jesus for all He has done for us, today let's take some time to make a list of things we are grateful to Him for. Then, we can spend a few minutes in prayer thanking Him for all he has done, starting with His sacrifice on the cross.
I'm thankful for: