Eyes Upon Jesus

Opening Prayer: Come together in prayer today being thankful to those who brought the children to learn about Jesus in your Sunday School Class. May our merciful Lord help us to understand how much Jesus wants the children brought to Him , to know of His love and to see Him this day with eyes of faith.
Focus Memory Verse : Mine eyes are ever toward the Lord - Psalm 25:15a
Hymntime:
TURN YOUR EYES UPON JESUS
O soul, are you weary and troubled?
No light in the darkness you see?
There's a light for a look at the Savior,
And life more abundant and free!
Refrain
Turn your eyes upon Jesus,
Look full in His wonderful face,
And the things of earth will grow strangely dim,
In the light of His glory and grace.
Through death into life everlasting
He passed, and we follow Him there;
Over us sin no more hath dominion—
For more than conquerors we are!
Refrain
His Word shall not fail you—He promised;
Believe Him, and all will be well:
Then go to a world that is dying,
His perfect salvation to tell!
Refrain
_______________________________________________
Suggested Bible Readng :
13 And they brought young children to him, that he should touch them:
and his disciples rebuked those that brought them.
14 But when Jesus saw it, he was much displeased, and said unto them,
Suffer the little children to come unto me, and forbid them not: for of such is the kingdom of God.
15 Verily I say unto you, Whosoever shall not receive the kingdom of God as a little child, he shall not enter therein.
16 And he took them up in his arms, put his hands upon them, and blessed them.
Mark 10
______________________________________________________
Follow Up Discussion Questions :
1. Who were the children being brought to ? Vs. 13-14
2. How did the disciples of Jesus first react ? Vs 13
3. Did Jesus want the children brought to Him ? Vs. 14
4. How does anyone receive the Kingdom of God Vs .15
5. Did Jesus lift the children into his arms ? Vs
6. How does it make you feel to hear about the love Jesus has for children ?
7. Who brought you to your Sunday School class today ?
8. Do you think they want you to know about Jesus like those who brought
their children to see Him ?
9. Does your faith in all that you learn about Jesus Christ help you to see Him ?
10. Did you know we see Jesus with eyes of faith today ?
11: Read the following verse : And he turned him unto his disciples, and said privately, Blessed are the eyes which see the things that ye see: Luke 10:23
_______________________________________________________________________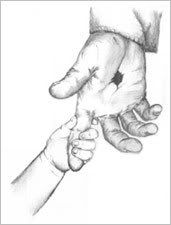 Reach




Did He not suffer?
Did He not ache…
For the fallen condition of mankind-
Which more often than not, remains unkind.
Thankfully, His nail-pierced hand
Is still in reach for anyone
To take –and gently rise
From deep,deep sleep.
Time to awake-
By the Spirit of God
That is placed forever
within the soul ---
Reach for the Hand
That can make
All things new ,
purified
And whole.





Julie Pisacane © 2012
______________________________________________________________
Close In Prayer .