Grades 3-6 for Sunday School:
The Apostle Paul: Part 7
Shipwrecked!
Coloring Page for Young Visitors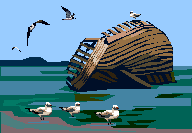 Memory Verse:
"Have not I commanded thee? Be strong and of a good courage; be not afraid, neither be thou dismayed: for the LORD thy God is with thee whithersoever thou goest." Joshua 1:9
Key verses for this week:
"Now when much time was spent, and when sailing was now dangerous, because the fast was now already past, Paul admonished them, And said unto them, Sirs, I perceive that this voyage will be with hurt and much damage, not only of the lading and ship, but also of our lives." Acts 27:9-10
"But after long abstinence Paul stood forth in the midst of them, and said, Sirs, ye should have hearkened unto me, and not have loosed from Crete, and to have gained this harm and loss. And now I exhort you to be of good cheer: for there shall be no loss of any man's life among you, but of the ship." Acts 27:21-22
"And so it came to pass, that they escaped all safe to land." Acts 27:44b
Fill in the Blanks
Paul wanted to travel to , to minister to the Christians, there.
Paul was sent to Rome as a .
The centurions who were in charge of Paul were to him.
Paul warned the centurion that continuing the journey would be .
The centurion Paul's warning, and listened, instead, to the ship's master.
True or False
1. The weather was favorable for sailing.
2. The ship's crew threw things into the sea to lighten the ship.
3. Paul was warned in a dream that many of those on the ship would die.
4. The sailors tried to abandon the ship with the prisoners still on board.
5. As God had promised, everyone made it to land safely.
.