Grades 3-6 Lesson 55 for Sunday School:
The Apostle Paul: Part 6
A New Team on a New Mission
Coloring Page for Young Visitors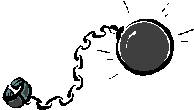 Memory Verse:
"And they said, Believe on the Lord Jesus Christ, and thou shalt be saved, and thy house." Acts 16:31
Key verses for this week:
"And the contention was so sharp between them, that they departed asunder one from the other: and so Barnabas took Mark, and sailed unto Cyprus; And Paul chose Silas, and departed, being recommended by the brethren unto the grace of God." Acts 15:39-40
"And at midnight Paul and Silas prayed, and sang praises unto God: and the prisoners heard them." Acts 16:25
"And brought them out, and said, Sirs, what must I do to be saved?" Acts 16:30
"But my God shall supply all your need according to his riches in glory by Christ Jesus." Philippians 4:19
Fill in the Blanks
When Paul and Barnabas set out on new missionary journeys, Barnabas went with his nephew, .
Paul's new missionary partner was named .
Paul and Silas were called, in a , to come to Philippi.
The first person saved through Paul and Silas' ministry in Philippi, was a woman named .
Lydia invited Paul and Silas to stay in her while they were in Philippi.
True or False
1. Paul cast an evil spirit out of a young fortune teller.
2. Paul and Silas were rewarded for helping the young girl.
3. Paul and Silas were put in stocks, in the innermost part of the Philippian prison.
4. Paul and Silas escaped when an earthquake shook off their shackles and opened the doors.
5. When the jail keeper found that Paul and Silas had not escaped, he asked them how he could be saved.