Grades 3-6 Handout for Sunday School
The Life of Jesus Christ: Lesson 6
Parting Words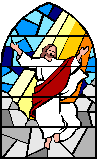 Memory Verse:
"Go ye therefore, and teach all nations, baptizing them in the name of the Father, and of the Son, and of the Holy Ghost: Teaching them to observe all things whatsoever I have commanded you:"
Matthew 28:19-20a
Key verses for this week:
"And said unto them, Thus it is written, and thus it behooved Christ to suffer, and to rise from the dead the third day: And that repentance and remission of sins should be preached in his name among all nations, beginning at Jerusalem." Luke 24:46-47
"But ye shall receive power, after that the Holy Ghost is come upon you: and ye shall be witnesses unto me both in Jerusalem, and in all Judaea, and in Samaria, and unto the uttermost part of the earth." Acts 1:8
"… this same Jesus, which is taken up from you into heaven, shall so come in like manner as ye have seen him go into heaven." Acts 1:11b
Fill in the Blanks
Following His resurrection, Jesus joined two men on the road to .
The two men were discussing the events that had happened in .
Jesus reviewed all of the Testament prophecies that spoke of the Messiah.
The men finally recognized Jesus when He blessed and broke the .
The men immediately returned to Jerusalem to tell the what they'd seen.
True or False
1. The two men on the road to Emmaus recognized Jesus right away.
2. When Jesus appeared to the disciples in the upper room, they were excited to see Him.
3. Jesus ate some food with them to prove he was not a ghost. 4. Jesus promised that His Father would send the Holy Spirit after He left.
5. Jesus told His disciples, and us, to spread His message throughout the world.
Devotional Poem:
What If It's Today?
Am I ready if the Lord's return should be today?
Am I living as He asked, showing others the Way?
Jesus could return at any day and any time.
If that day should be this day, what would my Savior find?