Grades 3-6 Lesson 8 Handout
for Sunday School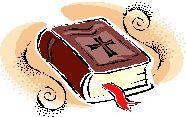 Lesson for this Week

Imitators of Christ: Perseverance
Memory Verse:
"And let us not be weary in well doing: for in due season we shall reap, if we faint not." Galatians 6:9
Key verses we considered this week:
"And straightway many were gathered together, insomuch that there was no room to receive them, no, not so much as about the door: and he preached the word unto them." Mark 2:2
"When Jesus saw their faith, he said unto the sick of the palsy, Son, thy sins be forgiven thee." Mark 2:5
"But that ye may know that the Son of man hath power on earth to forgive sins, (he saith to the sick of the palsy,) I say unto thee, Arise, and take up thy bed, and go thy way into thine house. And immediately he arose, took up the bed, and went forth before them all; insomuch that they were all amazed, and glorified God, saying, We never saw it on this fashion." Mark 2:10-12
Activity to do at home:
Remember that just because you are doing what God has asked of you doesn't guarantee that it'll be easy. In fact, when we are obeying God, that's just when Satan likes to come along and cause problems…hoping to discourage us from following through. What a great victory it is when we can overcome those temptations from Satan to quit! He would like nothing better than to see us give up. But when we trust God to keep us going, we can defeat that old devil, and bring glory to our Heavenly Father. So with Jesus' help, go out this week, and persevere!
Devotional Poem
Perseverance
Perseverance is the key,
Pressing forward, faithfully;
Even when the way gets tough,
Knowing Jesus is enough;
Overcoming doubt and fear,
Asking Jesus to draw near;
So we will not weary be
As we finish, victoriously.
Suggested Prayer: Thank You, Lord, for the example we've seen of perseverance. Help me, even this week, to be willing and able to persevere in whatever You give me to do, just as they did; and perhaps through that perseverance, have an opportunity to lead a friend to You. What a wonderful privilege that would be! And thank You, Lord, for giving me the strength I will need to keep on going, even if things get a little tough. Remind me to look to You for the help I might need, because I know You love me, and want me to succeed with a bountiful harvest that will bring glory to You. Amen.
Lisa DeVinney, September 2017
_________________________________________________________