Grades 3-6 Lesson 4 Handout
for Sunday School
Imitators of Christ: Humility
Memory Verse:
"If I then, your Lord and Master, have washed your feet; ye also ought to wash one another's feet. For I have given you an example, that ye should do as I have done to you." John 13:14-15
Other verses we considered this week:
"let this mind be in you that was also in Christ Jesus: Who…made himself of no reputation, and took upon him the form of a servant… " (Philippians 2:5-7)
"And whatsoever ye do in word or deed, do all in the name of the Lord Jesus, giving thanks to God and the Father by him." Colossians 3:17
Activity to do at home: When you go home this week, try to remember this lesson of Jesus' humble service when you are asked to help out around the house, or perhaps at work, or even when you are out with your friends. Perhaps you can even look for ways to serve others this week, without even being asked. What a blessing you could be…and what a great example of being imitators of Christ!
Devotional Poem: True Humility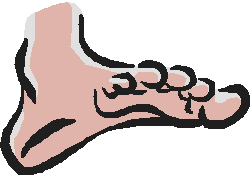 To wash another's feet…
That's true humility!
The duty of a servant,
And not a lofty king.
But that's just what our Lord did;
Put kingly robes aside,
To teach His twelve disciples
To put away their pride.
Could you do what The Lord did,
And be a servant, too?
Yes, you can be like Jesus -
His Spirit lives in you!
Suggested Prayer: Lord, thank You for being such a clear and true example of humility for me. Help me to not think of myself as being more important than anyone else. But to see myself as Your humble servant. And be ready to do whatever tasks You may bring into my life this week with the same attitude You have…a real desire to serve others, as You did. Amen!
Lisa DeVinney, August, 2017
_________________________________________________________