Middle Grades Lesson 3 Handout
for Sunday School
Imitators of Christ: Showing Compassion
Memory Verse:
"And Jesus, when he came out, saw much people, and was moved with compassion toward them, because they were as sheep not having a shepherd: and he began to teach them many things." Mark 6:34
Other verses we considered this week: from Mark 6
"And when he had taken the five loaves and the two fishes, he looked up to heaven, and blessed, and brake the loaves, and gave them to his disciples to set before them; and the two fishes divided he among them all. And they did all eat, and were filled. And they took up twelve baskets full of the fragments, and of the fishes. And they that did eat of the loaves were about five thousand men." Mark 6:41-44
Activity to do at home: This week, pay special attention to the needs of people around you. Consider whether there are some needs that you, yourself (with God's help), can do something about. Then go ahead and do whatever you can. Be God's hands to the world, this week!

Devotional Poem: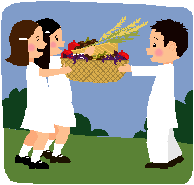 True Compassion
People won't care what you know,
Until they know how much you care.
So if you see needs, then meet them
Anytime, and anywhere.
You'll be showing true compassion,
When you meet one's greatest need.
Then a helping hand extended
Will be Christ in you, indeed!
Suggested Prayer: Lord, thank You for showing me Your great compassion by dying on the cross for me. And thank You for putting that same compassion in my heart, so I can help those around me who are lost and hurting. Help me this week, Lord, to be aware of the needs of those around me. And help me to show true compassion by doing whatever I can to help. And most of all, thank You for trusting me to be the one to reach out and touch others in Your name. Amen.
Lisa DeVinney, August, 2017
_________________________________________________________