Grades 3-6 Lesson 13 Handout for Sunday School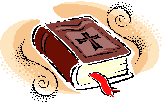 Imitators of Christ: Loyalty

Memory Verse:
"For I have no man likeminded, who will naturally care for your state. For all seek their own, not the things which are Jesus Christ's." Philippians 2:20-21
Key verses or thoughts for this week:
"Be ye, therefore, followers of God, as dear children." Ephesians 5:1
"Let this mind be in you, which was also in Christ Jesus:" Philippians 2:5
"Till we all come to the unity of the faith and of the knowledge of the Son of God, to a perfect man, to the measure of the stature of the fullness of Christ." Ephesians 4:13
Activity to do at home:

Are there any situations you face each week that test your loyalty to God? Do you have friends who test that loyalty? Can you think of any situations you found yourself in this past week that tested your loyalty to God? If you can, do you think you should make any changes in your life?
Devotional Poem:
Whose Reflection?
When you look into the mirror,
who is it that you see?
Do you see your own reflection?
Look again then, please…
For if you are a "little Christ"
(and that's what "Christian" means),
it should be Jesus' face that others
Look at you, and see.
Suggested Prayer: Thank You, Lord, for teaching me about the very mind of Christ, showing me what I should do if I want to be like Him. Give me the ability to put into practice all of the Christ-like qualities I've learned about. Help me this week, Lord, to remain loyal to You, no matter what You might ask of me. And help me to remember to pray for my Christian brothers and sisters, whose loyalty to You is tested each and every day. Give them courage and protection, and encouragement in their hearts, from You. For it's in Your Name that I ask. Amen.
Lisa DeVinney, October, 2017
_________________________________________________________