Grades 3-6 Lesson 10 Handout
for Sunday School
Imitators of Christ: Patience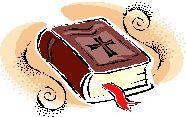 Memory Verse:
"Now the God of patience and consolation grant you to be likeminded one toward another according to Christ Jesus:" Romans 15:5
Key verses we considered this week:
"… Take Mark, and bring him with thee: for he is profitable to me for the ministry." 2 Timothy 4:11
"Being confident of this very thing, that he which hath begun a good work in you will perform it until the day of Jesus Christ." Philippians 1:6
Activity to do at home:
Sometimes the hardest group of people to have patience with is those who are younger than us. Oftentimes, they haven't developed the same skills and thinking abilities that we have, so it's harder for them to keep up and do the same things we do. Try to find someone younger than you to practice your patience with this week. Perhaps you have younger brothers or sisters that you could be responsible for. Perhaps your church needs help in the nursery or with another Sunday School class with kids younger than you. Look around you this week, to see who The Lord might have you minister to by being patient with them.
Devotional Poem

Patience
Sometimes being Christ-like
Means slowing down a bit,
To help another Christian
Who just needs time to sit.
Be careful not to push on,
But just, with patience, wait;
And you will be rewarded,
Some day at Heaven's gate.
Suggested Prayer: Thank You, Lord, for the opportunities you give me to patient with those around me. Remind me, Lord, that everyone doesn't do things at the same pace. And that You might be working a little slower in someone else. But that they are still growing in You. Help me to be patient, as I work alongside them, and be an encouragement to them to keep growing in You, in Your time. Amen.
Lisa DeVinney, September, 2017
_________________________________________________________