Middle Grades Lesson Handout
for Sunday School
Imitators of Christ - Introduction
Memory Verse: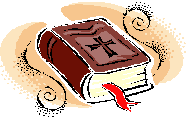 "Be ye, therefore, followers of God, as dear children." Ephesians 5:1
Other verses to consider this week:
God is holy, and wants us to be holy:
"But as he which hath called you is holy, so be ye holy in all manner of conversation; Because it is written, Be ye holy; for I am holy." 1 Peter 1:15-16
("manner of conversation," here, means the way that you live)
God is loving, and wants us to be loving:
"As the Father hath loved me, so have I loved you: continue ye in my love." John 15:9
God is forgiving, and wants us to be forgiving:
And be ye kind one to another, tenderhearted, forgiving one another, even as God for Christ's sake hath forgiven you. Ephesians 4:32
Activity to do at home: Think about what you already know about Jesus. Then think of ways you can imitate Him this week, and put them into action! Then, be ready to share with the class next week how you were able to really act like Christ this week!
Devotional Poem:
More Like Jesus
More like Jesus, I would be,
So when others look at me
Only Jesus they would see,
As His Spirit lives in me.
Suggested Prayer: Lord, thank You for sending Your Son, Jesus Christ, to show me what You are like. Help me to want to know You better, so I can become more like Christ in everything I think, and say, and do. Remind me, as I go through this week, to live as true Christians should. And thank You for helping me to do that. Amen.
Lisa DeVinney, February, 2017
_________________________________________________________