Grades 3-6 Sunday School Lesson
Bible Heroines
Rahab the Heroine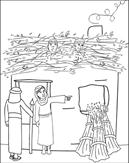 Memory Verse:
"Therefore if any man be in Christ, he is a new creature: old things are passed away; behold, all things are become new." 2 Corinthians 5:17

Key verses for this week:
"By faith the harlot Rahab perished not with them that believed not, when she had received the spies with peace." Hebrews 11:31
"And Joshua saved Rahab the harlot alive, and her father's household, and all that she had; and she dwelleth in Israel even unto this day; because she hid the messengers, which Joshua sent to spy out Jericho." Joshua 6:25
"He that hath an ear, let him hear what the Spirit saith unto the churches; To him that overcometh will I give to eat of the hidden manna, and will give him a white stone, and in the stone a new name written, which no man knoweth saving he that receiveth it." Revelation 2:17
Fill in the Blanks
Joshua, the leader of the Israelites, sent two into Jericho.
The spies went to the house of a woman named .
Rahab told the spies that she believed their was God in Heaven and earth.
The spies told Rahab that if she wanted to be spared, she was to hang a ______ ______ from her window.
When fell, Joshua sent the spies in to rescue Rahab.
True or False
1. The Israelite spies were able to sneak into Jericho without being seen.
2. Rahab lied, and told the king's soldiers that the spies had left the city.
3. When she was questioned, Rahab turned the spies over to the king's soldiers.
4. Rahab helped the spies escape by lowering them out of her window.
5. Rahab was the only person from Jericho that was spared.