Grades 3-6 Sunday School Lesson - Handout

Through the Bible
Lesson 4: Noah and the Flood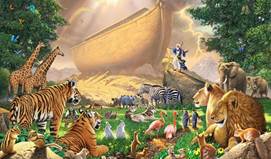 "But Noah found grace in the eyes of the Lord." Genesis 6:8

Key verses for this week:

"And the Lord said, I will destroy man whom I have created from the face of the earth; both man, and beast, and the creeping thing, and the fowls of the air; for it repenteth me that I have made them." Genesis 6:7
"And, behold, I, even I, do bring a flood of waters upon the earth, to destroy all flesh, wherein is the breath of life, from under heaven; and every thing that is in the earth shall die. But with thee will I establish my covenant; and thou shalt come into the ark, thou, and thy sons, and thy wife, and thy sons' wives with thee." Genesis 6:17-18
"And as it was in the days of Noah, so shall it be also in the days of the Son of man." Luke 17:26
Fill in the Blanks
1. A descendant of Adam named walked with God and was taken directly to Heaven.
2. Enoch's great-grandson's name was .
3. Noah found in the eyes of the Lord.
4. God warned man that they had 120 to turn to Him.
5. Because of man's wickedness, God decided to judge the earth with a .
True or False
1. Noah and his family were the only people saved from the flood.
2. Noah took five of every animal on the ark.
3. During the Flood, it rained for forty days and forty nights.
4. The first thing Noah did after getting off the ark was build a new home.
5. God put a rainbow in the sky as a reminder that He will never again destroy the whole earth with a flood.