Grades 3-6 Sunday School Lesson - Handout

Through the Bible
Lesson 2: The Fall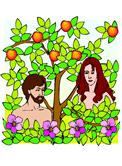 Memory Verse:
"For the wages of sin is death; but the gift of God is eternal life through Jesus Christ our Lord." Romans 6:23

Key verses for this week:

"For all that is in the world, the lust of the flesh, and the lust of the eyes, and the pride of life, is not of the Father, but is of the world" 1 John 2:26
"There hath no temptation taken you but such as is common to man: but God is faithful, who will not suffer you to be tempted above that ye are able; but will with the temptation also make a way to escape, that ye may be able to bear it.." 1 Corinthians 10:13
"Jesus saith unto him, I am the way, the truth, and the life: no man cometh unto the Father, but by me." John 14:6
Fill in the Blanks
1. 1. God placed Adam and Eve in the Garden of .
2. A came to talk to Eve in the Garden.
3. The serpent who tempted Eve to sin was .
4. Satan told Eve that was not being truthful with them.
5. Eve told Satan they were not to eat fruit from the .
True or False
1. Eve refused to eat fruit from the forbidden tree.
2. After eating some of the forbidden fruit, Eve gave some to Adam.
3. Adam, too, ate the fruit from the Tree of the Knowledge of Good and Evil.
4. When they realized they had sinned, Adam and Eve went to confess it to God.
5. God made coats out of animal skins to cover Adam and Eve.
.