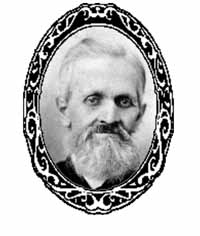 Ezra Sprague Cook
Ezra Sprague Cook, who was born May 11, 1811, lived as a pastor and then businessman and farmer. He came from a long line of Cook men going back to Martha Cooper and Ellis Cook, who came to America via Lynn, Massachusetts, and settled in Southampton, Long Island, in 1644.
He was described as "an unusually well-educated man, even for [a pastor]."
On January 26, 1834, he married Permelia ('Pamala') Milk. She came from a long Milk line tracing back to John Milk, who was appointed cowherd for Salem, Massachusetts in 1662.
She was described as "a woman of rare sweetness, great patience and sympathy, with a fine sense of humor."
Ezra served as pastor in East Worcester, New York, and later left the ministry and invested in a woolen mill there. However, the mill failed.
At this point, the family moved to Wheaton, Illinois where son David Caleb (born August 28, 1850) grew up with a sister (who died in youth) and several brothers. (Few details are presently available about this family.)
In Illinois, the Ezra Cook family farmed until Ezra found an opportunity to sell the property and open a print shop in downtown Chicago. His printery, which specialized in bank supplies, was located on LaSalle Street between Washington and Randolph.
Here Ezra permitted his son David to start a sewing machine accessories business, which later moved to a rented property on Kinzie Avenue in Chicago.
Both businesses were destroyed by the great Chicago Fire in Autumn, 1871. However, Ezra and his son were able to rebuild the businesses on the North side of the city.
Ezra died January 25, 1881. Permelia died inWinters, California on December 14, 1901.