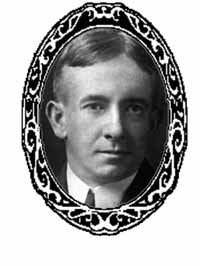 David Carl Cook .
David Carl Cook, who was born June 20, 1880, became the successor to David Caleb Cook in the top management position at David C. Cook Publishing Company.
On September 18, 1906, he married Frances Lois Kerr. Her father was James Adams Kerr (1844-1885), son of Richard Ker and Maria Jane Lennox. Her mother was Lois Ocelia Hess (1850-1937), daughter of Daniel Hess and Frances Wright.
They had three children:
Lois Margaret (1907-1933), who married Gerald Ivan Holbrook "Hoke" Perry. Lois was to die a tragic death at a young age, while driving on Michigan Avenue in Chicago. Her death drove her husband to such grief that he continued to live with the Cook family until he married Dorothy Jack Howard in later years.
Frances Elizabeth Vance (1910-1989), who married Lee Vance on August 16, 1939 in Chicago.
David Charles Cook (1912-1991), who married Anna Mae Lawrence on October 3, 1937 in Elgin.
Frances Kerr developed a pleasant artistic ability and became skilled in human figure drawing as well as in painting watercolor seascapes and desert landscapes.
"Grammy Frances" would pursue these drawings throughout her life, especially when she would convalesce in California after David C. Cook, Jr.'s death in March, 1932.
But Frances Kerr also discovered a commercial art talent that must have at least equaled her mother-in-law's editorial skills.
She provided line art for children's book publishers like Foresman and the Albert Whitman Company.
Frances Kerr Cook lived until 1949, and established a business legacy by restructuring the publishing company to embody charitable purposes and to embrace modern concepts of communication.